VoIP Softphone for Business
Compatible with any VoIP provider, cloud PBX, Asterisk, FreePBX
Best for call center agents, sales pros and support teams
Instant click-to-call and screen pop-up integration with any 3-rd party CRM and Helpdesk software
Online reporting, call and screen recording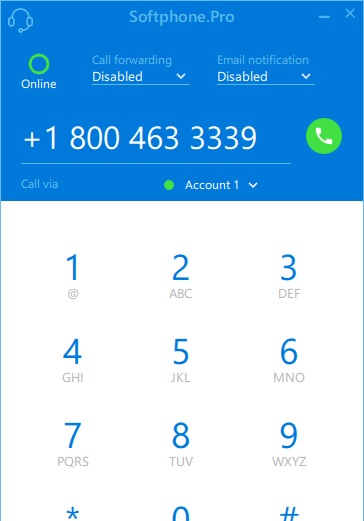 Jun 23, 2021 Softphone.Pro 4.4
New %CALLID% parameter added for event handlers. %CALLID% is the same for all events related to a single specific call. New %APPLOGIN% and %LOGIN% parameters added for "Status change" event handler.
May 14, 2021 Softphone.Pro 4.3
Automatic SIP un-registration when status is ACW (or any other red status, such as Outbound Calling, etc.) or Away. This new feature helps to decrease wait time dramatically as cloud PBX doesn't even try to call unavailable Agents. Improved NAT traversal algorithm to fix one-way audio and no audio issues.
Feb 25, 2021 Softphone.Pro 4.2
New advanced NAT traversal fixes one-way audio and no audio issues, new "Upload a call recording" and "Upload a screen recording" actions for Call end event, new "After call work finished" and "Status change" events for 3-rd party systems intergration.