Feb 25, 2021 Softphone.Pro 4.2
New advanced NAT traversal fixes one-way audio and no audio issues, new "Upload a call recording" and "Upload a screen recording" actions for Call end event, new "After call work finished" and "Status change" events for 3-rd party systems intergration.
Dec 17, 2020 Softphone.Pro 4.1
Subscription based licensing (1,6, 12 months), screen capture (Team only), always-on webcam monitoring (Team only), display always on top, ACW timeout, Romanian and Deutch localization, minimize to Windows tray when clicking the x button.
Aug 3, 2020 Team Update - August 2020
Team subscription includes the Softphone.Pro desktop license. New Softphone.Pro settings screen: no need to learn SoftphonePro.ini if you want to define general settings such as SIP account, statuses, tags.
SIP SOFTPHONE FOR PROFESSIONALS
We've developed Softphone.Pro to fit everyday needs of call center agents, sales managers and phone receptionists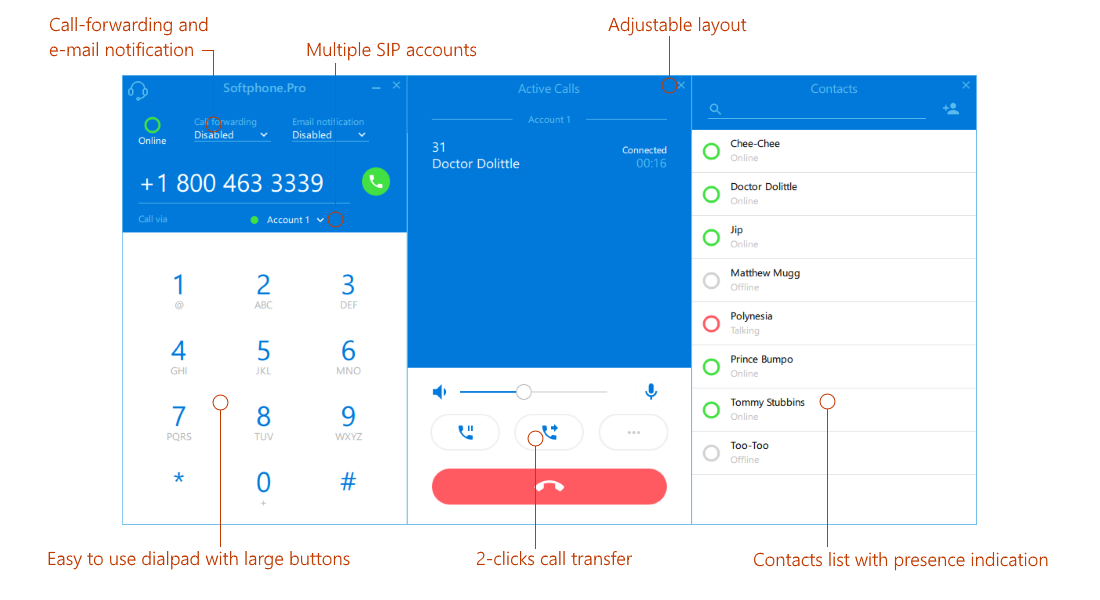 ONLINE DASHBOARD, REPORTING AND CALL RECORDING
Analyze team performance with 14 reports, charts and detailed call log with click-to-play feature
Easy to read real-time dashboard helps to analyze agents performance.
Spot trends fast with online reports and charts. Optimize agents performance and improve call center operations by giving managers the information they need to make smart business decisions.
Use Call Recording for call center compliance and agent training.
FREQUENTLY ASKED QUESTIONS